The Env-DATA System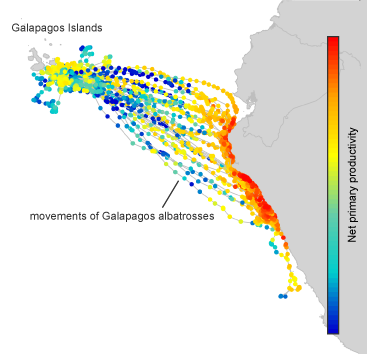 8-day ocean net primary productivity annotated to tracks of Galapagos albatrosses.
The Environmental Data Automated Track Annotation System (Env-DATA) is a set of free tools on Movebank to help you link animal movement data with information from global environmental datasets, like weather models and satellite imagery. These datasets provide estimates for hundreds of environmental parameters—such as wind conditions, land use, vegetation, and snow cover—for the whole world, with many measurements available from the 1970s to the present. By making it easy to connect animal movement data with these datasets, we hope to make it easier for you to explore how animals' movements relate to their environment.
With the Env-DATA Track Annotation Service, users can add estimates of hundreds of environmental variables to animal tracking data by selecting tracks, browsing and selecting variables, and submitting a request. It is also possible to use Env-DATA to access environmental data related to but not the same as the animal tracks themselves by annotating gridded data for a geographic area or point location records over a chosen time period. You can browse available datasets here.
Env-DATA should be cited when used. A current list of works citing the Env-DATA System can be found here.
Resources for using Env-DATA include
Development and maintenance of Env-DATA is funded by
The Max Planck Institute of Animal Behavior and Max Planck Society
US National Science Foundation Biological Infrastructure award 1564380
NASA ABoVE project NNX15AT91A
Previous: NASA Earth Science Division, Ecological Forecasting Program project NNX11AP61G
The system is described in
Dodge S, Bohrer G, Weinzierl R, Davidson SC, Kays R, Douglas D, Cruz S, Han J, Brandes D, Wikelski M. 2013. The Environmental-Data Automated Track Annotation (Env-DATA) System: linking animal tracks with environmental data. Movement Ecology. 1:3. https://doi.org/10.1186/2051-3933-1-3
Discover research that uses or discusses Env-DATA.
---
The Env-DATA System
 Env-DATA Track Annotation Service