January 2016 Newsletter
Dear Movebank users,
We begin the new year in the midst of continued growth and new beginnings, and with a request for feedback. Researchers are currently using Movebank to store nearly 250 million animal locations in over 2,200 user-created studies. Movebank's growth (see charts below) reflects both an increase in users and an increasing number of high-resolution tags recording animal movements around the world.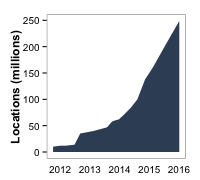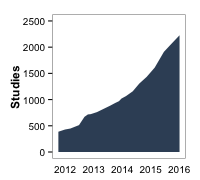 Please take our user survey!
How has Movebank helped you? The Max Planck Institute for Ornithology, which hosts Movebank and is its primary source of funding for maintenance and development, could use your feedback. Please take a few minutes to complete a short survey about how you use Movebank and what new features you would most like to see (it should take less than 5 minutes to complete).
Take the Movebank User Survey! [no longer active]
New live feeds and sensor types
We now offer live data feeds for tags produced by Ecotone Telemetry and madebytheo. You can set up subscriptions for the following tag types to automatically import new data into your own study in Movebank:
Argos: Microwave Telemetry, North Star/GeoTrak (and DIAG format data for all PTTs)
GSM-GPS: CTT, Ecotone Telemetry, e-obs GmbH, Fleetronic, MadeByTheo, and Microwave Telemetry
In addition, we have added magnetometers and barometers to the sensor types supported in Movebank. Contact us at support@movebank.org to discuss including new live feeds, sensor types, or data attributes.
Movebank now on GitHub
Due to increasing interest in using our API and sample codes for displaying Movebank data on other websites, we have now posted documentation at GitHub. Please access, use, and share as you like!
Growing demand for published tracking data
In 2015 we saw an increase in requests to publish datasets in the Movebank Data Repository and receive citable DOIs. We worked with data owners to publish 21 datasets in 2015, permanently archiving the data underlying studies of vulture foraging behavior (Spiegel et al. 2015, Am Nat), collective movement in baboons (Strandburg-Peshkin et al. 2015, Science), quantifying collective sampling efforts of animals (here gray seals) instrumented to measure environmental conditions (Baker et al. 2015, Movement Ecology) and others.
If you would like to publish the data related to your own upcoming or existing publications, contact our curator Sarah Davidson at sdavidson@orn.mpg.de, preferably while your manuscript is in submission or soon after acceptance.
Help BirdLife Malta protect migrating birds
The Maltese islands are infamous for illegal hunting, and when rare species get to the islands BirdLife Malta can be on site to protect birds from hunters. The use of tracking technology can make this work a lot more effective, and we ask projects and organisations tagging birds that might migrate over Malta to get in touch with Nick Piludu, Conservation Officer at BirdLife Malta, at nick.piludu@birdlifemalta.org, to discuss how to best protect them from wildlife crime.
Outreach and conferences
Since our last update, we have presented about Movebank at the 5th Bio-Logging Symposium in Strasbourg, France, the International User Conference on Argos Wildlife Applications in Baltimore, USA, the 66th International Astronautical Congress in Jerusalem, Israel, the Ecological Society of Germany, Austria & Switzerland (GfÖ) meeting in Göttingen, Germany, and the Citizen Science 2015 Conference in San Jose, USA. Also, Movebank was recently covered in a fun article in Atlas Obscura.
6th International Bio-Logging Science Symposium
Mark your calendars for the 6th International Bio-Logging Science Symposium, scheduled to take place September 2017 in Constance, Germany. The symposium will be hosted by the Max Planck Institute for Ornithology and the University of Constance—we are excited to see you there! The website for the meeting, with more information about location and registration, will go online on 29 January at www.bio-logging.net.
ICARUS launch in 2016
Towards the end of 2016 the new experimental global tracking system ICARUS will launch to the International Space Station (ISS). It consists of three large antennas and an onboard decoding computer (www.icarusinitiative.org). All ICARUS data will be serviced to participating scientists via Movebank. The non-profit ICARUS company will soon provide a web form to declare your possible interest in using 5-g GPS/acceleration/magnetometer tags ready for deployment in 2017.
What's next?
In 2016 we will continue to work on adding support for new data types while improving site performance, in particular for very large datasets. As described in Kays et al. 2015 (Science), we expect that high-resolution datasets will become the norm in coming years, facilitating scientific advances but creating increasing data management challenges, and we intend to help Movebank users meet these challenges. We will also be adding several new global environmental datasets to the Env-DATA System funded in part by a new grant from NASA. Lastly, as many of you may already be aware, the International Bio-Logging Society is set to be launched in 2016 . Movebank PI Martin Wikelski is a member of the organizing committee and we enthusiastically support this initiative, in particular its goal to standardize data protocols, which we outline with collaborators in a recent Commentary in Animal Biotelemetry (Campbell et al. 2016).
For more frequent updates about what's happening at Movebank, don't forget to check out our Facebook page. As always, send feedback, questions, or requests for help anytime to support@movebank.org.
We wish you a happy and productive 2016!
Sincerely,
The Movebank Team