February 2021 Newsletter
Dear Movebank users,
We hope this message finds you well and navigating the challenges that have changed life for all of us over the past year. We are glad to be able to share some good news from Movebank and opportunities to get involved. During the past year you have continued to grow the amount of animal tracking and bio-logging data stored in Movebank, with nearly 3,000 data owners now managing 6,000 studies containing 2.4 billion locations and 3.1 billion measurements from other on-animal sensors, describing the movements and behavior of over 1,000 animal taxa. Researchers and wildlife managers are adding over 3 million new records per day, with over 9,000 active tags sending data to Movebank through live feeds.
New features
In spring 2020 we introduced a redesigned website, a new data policy, and new sharing and communications tools. Features introduced since our last newsletter include
A collaborative archive for Arctic research
In November, we launched the Arctic Animal Movement Archive, a collaborative collection of studies in Movebank with data from the Arctic and subarctic, to support research, environmental monitoring, public engagement and conservation in the region. This effort is described in Science Magazine and in our news piece about this new resource. We invite more participation from groups and individuals tracking animals in the region, and from those with ideas for projects using the archive. Find out how to get involved.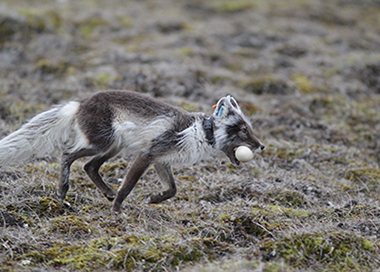 Arctic fox carrying a goose egg on Bylot Island, Canada.
(photo by Dominique Berteaux)
Animal responses to humanity's lockdown
Movebank has partnered with a coalition of data platforms and researchers led by the International Bio-Logging Society to form the Covid-19 Bio-Logging Initiative. The Initiative was established in spring 2020 to coordinate multiple large-scale analyses to assess movements and behaviors of aquatic, avian, and terrestrial, species in relation to changes in human vehicle traffic and mobility caused by society's global response to the Covid-19 pandemic. The Initiative has been awarded funding from the Gordon and Betty Moore Foundation and the National Geographic Society, which will support research positions and administration to move these efforts forward in 2021. Read more in (Rutz et al. 2020). The majority of participating data are being shared through Movebank! If you have been tracking animal movements during the past year that might contribute to these analyses and are interested in joining, complete a participation agreement or contact covid19.biologging.initiative@gmail.com for more information.
Partnerships for conservation
Animal movement tracks offer valuable information for engaging the public and identifying priorities for conservation work. Over the past year, Movebank has partnered with Birds Canada, the British Trust for Ornithology, the Convention for the Protection of Migratory Species, EURING, the French Bird Ringing Centre (CRBPO), the Migratory Connectivity Project, National Audubon Society, National Geographic, and the Smithsonian Migratory Bird Center on several projects that are building web-based atlases and assessment tools. For these projects, researchers can share their data through Movebank, allowing partner organizations to efficiently find and integrate these data. We are working with analysts and leaders from these projects to improve support for large-scale assessments using Movebank.
New software
A growing number of software tools are designed to work with data in Movebank format. This past year, Movebank and others have released three new programs:
The Animal Tagger App allows researchers to report capture and deployment information while in the field, that can then be sent directly to their studies in Movebank. In combination with the Animal Tracker App, this platform offers a space to manage photographs, correspondence, and other extended information about their tracking studies.
Firetail is an advanced software from Movebank's core development team designed to quickly and dynamically process and visualize large, high-resolution datasets, including GPS and acceleration data. Try out the full version for a free three-month test period.
The Tagged Animal Movement Explorer (TAME) is an interactive data visualization tool for rapid exploration of small-to-medium sized animal movement datasets. This tool is independently developed by researchers at the U.S. Geological Survey as part of a platform for exploring stream ecosystems.
If you're developing tools that are compatible with Movebank data and want us to share this on our software page, let us know!
Data archiving
Data owners cite nearly 700 publications describing the data in their studies on Movebank, and allow the public to view animal tracks or download data from over 900 owner-managed studies. Movebank's public archive, the Movebank Data Repository, released its 200th dataset during 2020. Over 600 researchers have now used the Repository to formally publish 220 curated and citable datasets describing movements and other sensor measurements from 10,432 animals that underlie nearly 300 papers published in 93 journals. We are currently working with the Communication, Information, Media Centre of the University of Konstanz (KIM) to pursue certification by CoreTrustSeal for the Repository with support from FAIRsFAIR. Archiving resources introduced since our last newsletter include
Environmental data links
The Env-DATA System offers tools for annotating environmental information for movement ecology research and wildlife management. Since our last newsletter, over 300 users have made use of Env-DATA, requiring access to more than 600,000 data files from global remote sensing and weather reanalysis products. Since our last newsletter, we have added links to OSCAR ocean surface currents and MODIS Land QC variables and MCD12 V6 land cover products.
Conferences and training
Movebank was represented at a wide range of workshops and conferences since our last newsletter. These include conferences of the American Geophysical Union (remote), Biodiversity_Next (the Netherlands), the Ecological Society of America (USA), Ocean Sciences Meeting (USA), and the Research Data Alliance (Germany and the USA). Movebank and AniMove training workshops were held at the Gordon Research Conference (Italy), the Scottish Centre for Ecology and the Natural Environment (SCENE), the Smithsonian Conservation Biology Institute (US), and Yale University (US).
Data standards
We continue to participate in initiatives to make animal tracking and bio-logging data more FAIR (findable, accessible, interoperable, and reusable) through community data standards. As part of these efforts, Movebank's attribute dictionary is now published on the British Oceanographic Data Centre's NERC Vocabulary Server, supporting future interoperability by providing each data attribute with a persistent link and machine-readable format. We have provided Movebank as a use case for developing best practices to represent tracking data using the biodiversity standard Darwin Core, efforts that were presented at multiple conferences over the past year and are ongoing on GitHub. Over the past year, we have also participated in the recently-initiated Machine Observations Interest Group of TDWG, the leading association for biodiversity data standards; the International Bio-logging Society's Working Group on Data Standardization; and the Research Data Alliance Working Group for InteroperAble Descriptions of Observable Property Terminology (I-ADOPT).
Tips for researchers
Looking for ways to stay productive remotely while other activities are on hold? Now is a great time to organize and analyze your data! To get started, check out these new and improved resources:
We can also organize data for you with your guidance—contact us at support@movebank.org for help. Over the coming year you might start to hear from us through our new Notifications system with suggestions to improve your studies.
What's next?
Whether we are working at the office or from home, the next year promises to keep us busy at Movebank. This is in large part thanks to funding from the the German state of Baden-Württemberg, FAIRsFAIR, and the Knobloch Family Foundation, and the efforts of many collaborating partners. During 2021, we plan to
Meet with wildlife and conservation managers for their input in designing data management and analysis tools to support on-the-ground conservation.
Continue to grow the Arctic Animal Movement Archive, the Covid-19 Bio-Logging Initiative, and conservation partnerships described above.
Add automated data feeds for more tag manufacturers.
Update the Env-DATA System with the newest weather reanalysis from the European Centre for Medium-Range Weather Forecasts (ECMWF ERA5).
Complete the testing phase for Icarus and launch the first research projects transmitting tracking data through the International Space Station to researchers through Movebank.
Release a beta version MoveApps, an analysis platform for flexible, no-code analysis using tools developed and shared by movement ecology researchers. Contact support@moveapps.org for more information or to request access to the beta site when it becomes available.
Redesign and upgrade the software for the Movebank Data Repository.
Publish updates to Movebank's attribute dictionary and guidelines for managing multi-sensor datasets. Take our questionnaire to contribute feedback and suggestions.
The past year has drawn the world's attention to the importance of remote education and digital collections of human knowledge. Thanks to all of you who help Movebank to play a role in these efforts. We hope that at a time many of us continue to be separated from colleagues and in-person networking opportunities, Movebank can help us stay connected. Find us on Twitter, Facebook, YouTube, or contact us directly at support@movebank.org.
Sincerely,
The Movebank Team